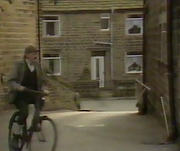 The Woolpack car park
is situated at the back of
The Woolpack
. It is where drinkers who drive there park. It has also been the setting of many memorable scenes in the show such as 
Chris Tate
being trapped under the wine bar rubble in 1993 after a fireball from the plane hit the bar and Tricia and Mandys mud fight in 1999.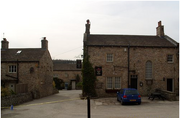 The car park was first used as the pub's car park when the current premises was taken over as the new Woolpack, after the relocation. A few benches were placed outside for people to sit.
In December 1993, Chris Tate was in the car park on his way to the pub when a plane crashed on the village and a fireball hit the Woolpack wine bar, trapping Chris under the rubble. Chris was later freed after Josh Lewis heard his cries for help.
In Episode 2479 (2nd February 1999), Woolpack employees Mandy Dingle and Tricia Fisher were at loggerheads and had a massive mud fight. Turner came out and was fuming.