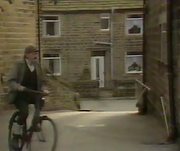 The Woolpack car park is situated at the back of the pub. It is where drinkers who drive there park. It has also been the setting of many memorable scenes in the show such as 
Chris Tate
being trapped under the wine bar rubble in 1993 after a fireball from the plane hit the bar and Tricia and Mandys mud fight in 1999.
The car park was first used as the pub's car park when the current premises was taken over as the new Woolpack, after the relocation.
Ad blocker interference detected!
Wikia is a free-to-use site that makes money from advertising. We have a modified experience for viewers using ad blockers

Wikia is not accessible if you've made further modifications. Remove the custom ad blocker rule(s) and the page will load as expected.