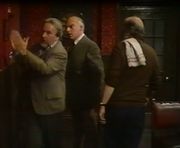 Wilf Padgett was a builder who renovated the Woolpack in August and September 1974. He was a local builder and Sam Pearson knew his late father Percy.
While doing the renovation works the chimmney fell in, while the pub was full of customers. Amos was not happy. Wilf appeared for several episodes in 1974 followed by a few episodes in March and April 1975. He was played by George Wareing.
Backstory
Edit
Wilf Padgett

Father

Occupation

Duration
1974-1975
Edit
Father Percy Padgett
Appearances
Edit
1975
1975
Ad blocker interference detected!
Wikia is a free-to-use site that makes money from advertising. We have a modified experience for viewers using ad blockers

Wikia is not accessible if you've made further modifications. Remove the custom ad blocker rule(s) and the page will load as expected.