Walter "Wally" Lumm
was a minor character in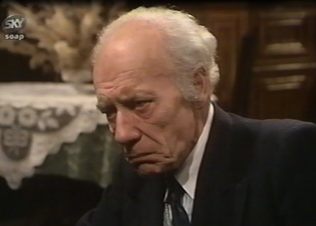 Emmerdale Farm for 12 episodes, from
Episode 115 (26th November 1973)
to June 1974. He was a village churchwarden but was quite an unliked man in Beckindale due to his views, he was seen as a troublemaker. At a party at the vicarage 
Annie Sugden
gave him a piece of her mind. His wife dictated to Letty Brewer whether she could or could not go to the Mothers Union because Letty was planning to divorce her husband.
Wally died offscreen in January 1975 after a short illness. He was 72. Wally was played by actor Herbert Ramskill.
Biography
Edit
Wally Lumm

Birthday

Died

Spouse

Dorrie Lumm (?-1975)

Occupation
Backstory
Edit
Wally Lumm was born in 1902 in Beckindale. He was 2 years younger than Sam Pearson. Wally later became the churchwarden for St Mary's Church, Beckindale.
1974-1975
Edit
Wally Lumm was the Beckindale churchwarden and was an outspoken man who held very controversial views on religion. He was against divorced women entering the Mothers Union. Reverend Edward Ruskin said that divorced women are now allowed to join the MU.
Wally fell ill to pneumonia in late 1974 and sadly died on the 21st January 1975. Sam Pearson was sad he had died even if Wally was quite controversial when alive. In February 1975, Amos mentioned Wally Lumm to Sam Pearson asking if his carrots were better and Sam would not mock the dead.
Memorable info
Edit
Birthday: 1902
Died: 21 January 1975
Full Name: Walter Lumm
Spouse Dorrie Lumm (??-1975)
Appearances
Edit
1973
1974