Val Pollard nee Lambert was a character in Emme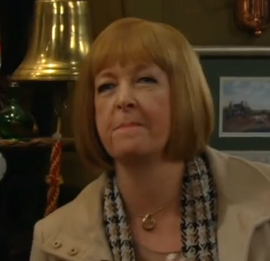 rdale, first appearing in 2004. She wed Eric Pollard in 2008 and in 2012 took a break to Portugal after her marriage to him hit the rocks. She was the younger sister of Diane Sugden nee Lambert. She was played by Charlie Hardwick.
Biography
Edit
Backstory
Edit
2004-2015
Edit
Memorable info
Edit
Birthday: February 1957
Died: 4th August 2015 (Aged 58)
Full Name: Valerie Pollard (Nee Lambert)
Siblings Diane Sugden
Spouse Eric Pollard (2008-2015; her death)
Children Paul Lambert, Sharon Lambert
Nieces Bernice Blackstock
Ad blocker interference detected!
Wikia is a free-to-use site that makes money from advertising. We have a modified experience for viewers using ad blockers

Wikia is not accessible if you've made further modifications. Remove the custom ad blocker rule(s) and the page will load as expected.