Tug Ghyll is a property which is part of the row of terraces to the right of 
The Woolpack
and is the 3rd house along the terrace inbetween 
Woodbine Cottage
and
Dale Head Farm
. The current residents of Tug Ghyll are Vanessa Woodfield , Leyla Harding and Carly Hope
The house was first featured in 1979 for a short while when local villager Cully Hotson and his wife and daughter were living there. Wendy Hotson was raped and a local dimwit Poor Ocker was suspected but the real culprit was run over when Cully was chasing him. It is not known when the Hotsons vacated Tug Ghyll but the residents were not seen again until 2002.
In 1979, the Hotson family live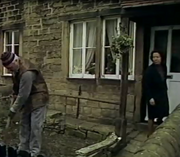 d at Tug Ghyll.
Cully Hotson
and his wife. That year, their daughter
Wendy Hotson
was raped.
I
n 2002 the house was bought by
Kelly Windsor
.
Neighbouring Properties
Edit
Known residents over the years
Edit
Ad blocker interference detected!
Wikia is a free-to-use site that makes money from advertising. We have a modified experience for viewers using ad blockers

Wikia is not accessible if you've made further modifications. Remove the custom ad blocker rule(s) and the page will load as expected.