The Grange B&B
is the village B&B and is next to
The Woolpack
. The owners are 
Eric
and
Val Pollard
. 
Alan Turner
previously owned the B&B. Many tourists stay here when visiting the village.
For many years the use of the building was not featured in the show but a tanker crashed into it in 1990. It was in 2002 when it became a central building in the storylines. It was where Terence Turner was killed by Dr Adam Forsythe in 2006.
The building was built in about 1700. One time a Mrs Butterworth lived there. The building was right next to a former corn chandlers dwelling which in 1976 became The Woolpack, after the original Woolpack was found to be suffering from subsidence.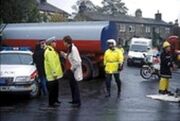 In 1990 a tanker crashed into Main Street and destroyed the wall of the Grange B&B.
Amos Brearly
was trapped in the Woolpack cellar.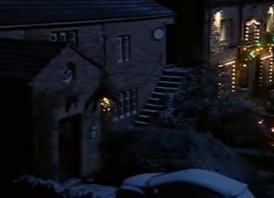 Alan Turner
took over the running of the Grange in 2002. He had lived in the village for 20 years and once ran
Home Farm
, aka The Big House. In 2006 his son
Terence Turner
came to visit. It was revealed that he had abused his sister
Steph Forsythe
when they were teenagers. A fight with
Dr Adam Forsythe
lead to Terence's death at the Grange. Alan later sold the B&B to one time devious
Eric Pollard
, who had mellowed a lot in recent years. Often the villagers, who never seem to be short of money seem to head towards the B&B when they have been thrown out by their partners or relatives, or have walked out on them.
Neighbouring Properties
Edit
Known residents over the years
Edit
Ad blocker interference detected!
Wikia is a free-to-use site that makes money from advertising. We have a modified experience for viewers using ad blockers

Wikia is not accessible if you've made further modifications. Remove the custom ad blocker rule(s) and the page will load as expected.