Edward "Teddy" Hooson was a minor character in Emmerdale Farm in September and October 1982. He had come back to the village after a few years away in Spalding. He rubbed a few people up the wrong way including Jackie Merrick, which lead to a vicious fight. Teddy was played by Martyn Hesford.
Biography
Edit
Backstory
Edit
Teddy Hooson was born on October 11th 1963 in Beckindale, the son of Harry Hooson and his wife. When he left school he left Beckindale to moved to Spalding. He worked for NY Estates.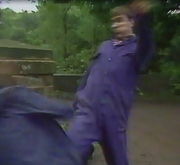 Teddy was posted back to Beckindale from Spalding by NY Estates. He cut croners and sprayed the potato potato plantation with fertiliser.
Appearances
Edit
1982
Ad blocker interference detected!
Wikia is a free-to-use site that makes money from advertising. We have a modified experience for viewers using ad blockers

Wikia is not accessible if you've made further modifications. Remove the custom ad blocker rule(s) and the page will load as expected.