Tamsin Charles is the sister of Libby Charles. She appeared in 2005 and was played by Jenny Gleave.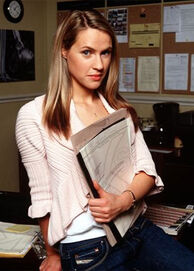 Tamsin first appeared on horseback with Libby, but the two girls have very different personalities. Tamsin has little time for quaint village life or a hard day's work. Her father forces her to get a job, but her stint as secretary for the Kings is short-lived, as she is more interested in using the computer to shop for shoes. When the Woolpack is desperate for a new barmaid, Tamsin is hired, but spends most of her time on breaks. After repeatedly clashing with barman Paul Lambert. Tamsin quits her job before he can fire her, and storms out of the pub.
Ad blocker interference detected!
Wikia is a free-to-use site that makes money from advertising. We have a modified experience for viewers using ad blockers

Wikia is not accessible if you've made further modifications. Remove the custom ad blocker rule(s) and the page will load as expected.