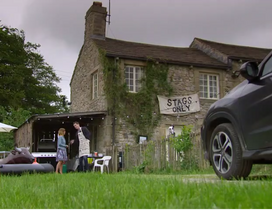 Tall Trees Cottage
is a large cottage in 
Emmerdale Village
currently occupied by
Marlon Dingle
. It is a few hundred yards behind the back of the central area of the village which is Main Street and Church Lane. It was once two cottages believed to be called
Ford Cottage
and
Beck Cottage
before they were knocked into one house. In 2006 
Noreen Bell
lived on her own.
It may be what is left of Demdyke Row, which was mainly destroyed in the 1993 plane crash but this has not been confirmed.
1972-2006
Edit
The current residents are Marlon Dingle and April Windsor.
Neighbouring Properties
Edit
Notes on the cottage and observations on it being Demdyke Row.
Edit
It has never been confirmed but it has been strongly hinted that Tall Trees Cottage is the remainder of Demdyke Row, which most of it was destroyed in the plane crash on 30th December 1993. In 2011 Marlon Dingle and Rhona, who lived a the cottage were deciding on a name for her unborn baby and Marlon suggested Demdyke, for the place the baby was concieved. Also Tall Trees is as far from Main Street as what Demdyke Row was and is at the top of an incline.