Smithy Cottage
is a pro
perty featured in Emmerdale and is the vets surgery of the village. It was first seen in 1973 when blacksmith 
Frank Blakey
lived there. He left Beckindale in 1974 and the building remained empty until 1995 when vet 
Zoe Tate
bought it and redecorated it with her friend Emma Nightingale. The cottage is currently owned by village vet
Paddy Kirk
. Other residents are 
Rhona Goskirk
and
Vanessa Woodfield
.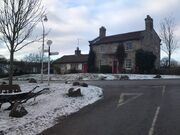 Smithy Cottage was built in the 1700s in Beckindale by the benevolent Verney family. It was the village smithy for many years and in the 1920s was the village wash house. The Blakey family later rented the cottage off the Verneys.
1973-1974
Edit
In 1973 
Frank Blakey
was the village blacksmith. He lived and worked at Smithy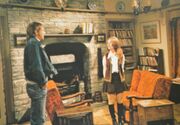 Cottage. He also had a petrol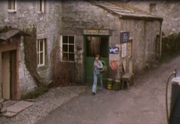 pump at the cottage. He married 
Janie Harker
in March 1973. Frank remained at Smithy Cottage until January 1974 when he was offered a job teaching in Essex. Frank and Jane left the village after Frank accepted the job.
Dryden Hogben, a traveller, squatted in the forge for a few months in the spring of 1974 and even got questioned by the local policeman for doing so. Dry left Beckindale that summer. The Smithy then remained empty for the next 21 years.
In 1987 Amos Brearly mentioned the smithy and the old petrol pump that used to be outside it.
1995-present
Edit
The smithy remained unused and uninhabited for 21 years until 1995 when Zoe Tate took a walk round it in the hope of buying it. She bought it soon afterwards and in April 1995 she moved in with her lesbian lover Emma Nightingale.
Neighbouring Properties
Edit
None adjoining but right opposite Brook Cottage (Mill Brook Cottage) and across from Oak Lea.
Known residents over the years
Edit