Skipdale is a village in between Emmerdale and Hotten and is the home of a brewery called Skipdale Brewery. A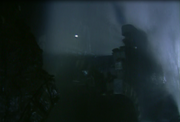 bridge in Emmerdale is named Skipdale Bridge. Skipdale is rarely seen in the show.
History and Facts
Edit
Dolly knew a good firm in Skipdale for staffing dinner parties (episode 1412).
Mr Carter of butchers, 'Jacksons' in Skipdale turns up at Hotten Cattle Market. Kate Sugden inferred that their prices were expensive (episode 1413).
In 2007, Bob Hope mentions that he intended to get the twins' Christening cake from a "swanky bakery" in Skipdale but didn't get around to it (episode 4665).
In 2012 Megan Macey found a disturbed Zak Dingle by the side of the road on Skipdale Road.
Ad blocker interference detected!
Wikia is a free-to-use site that makes money from advertising. We have a modified experience for viewers using ad blockers

Wikia is not accessible if you've made further modifications. Remove the custom ad blocker rule(s) and the page will load as expected.