Sir Gerald Scott
was a minor character in Emme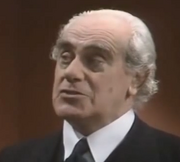 rdale Farm in 1 episode,
Episode 63 (28th May 1973)
. He was the father of
Dr Claire Scott
. Sir Gerald was played by
Kenneth Benda
.
Biography
Edit
Backstory
Edit
Geraldn Scott was born in Shipley, West Yorkshire to a miller father. Gerald went to medical school and later shunned his working class roots when he became a doctor. Gerald worked in Leeds in the 1930s before moving to London. He married Mavis Scott (Unknown Maiden Surname) and had a daughter Claire Scott in 1943.
Memorable info
Edit
Born: Unknown
Full Name: Gerald Scott
Spouse Mavis Scott
Children Dr Claire Scott (1943)
Appearances
Edit
1973
Ad blocker interference detected!
Wikia is a free-to-use site that makes money from advertising. We have a modified experience for viewers using ad blockers

Wikia is not accessible if you've made further modifications. Remove the custom ad blocker rule(s) and the page will load as expected.