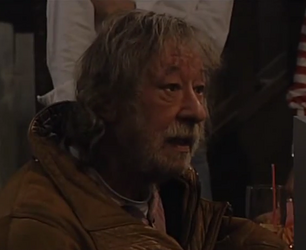 Shadrach Dingle
was a character in Emmerdale from
Episode 2674 (30th March 2000)
to
Episode 5664 (23rd July 2010)
. He was the drunkard brother of 
Zak Dingle
and the father of 
Chas Dingle
and
Gennie Walker
, whom he had an extra marital affair with her mother and they gave her up for adoption to Brenda Walker. Shadrach was a lazy, scruffy alcoholic and died in the river in 2010 after drinking too much. He was played by
Andy Devine
.
Biography
Edit
Backstory
Edit
Shadrach Dingle was born on the 22 July 1948 to Jedediah Dingle and Peg Dingle. Shadrach dated a woman called Faith. However in early 1974, Faith had an affair with Shadders's brother Zak Dingle. Faith married Shadrach when she was in her early stages of pregnancy and let him think he was the father. In November 1974 Faith gave birth to a son Cain Dingle. Zak was Cain's real father, and Shadrach was not to know the truth for another 26 years.
Shadders was a drunkard and often used to come home and beat the hell out of Cain and his daughter Chas Dingle, especially at night. Cain suffered at the violent hands of Shadrach for years. In early 1987, Shadrach cheated on Faith by dating Shirley Pascoe. They had a daughter Gennie Pascoe in November 1987 whom Shirley put up for adoption.
2000-2010
Edit
In March 2000, Shadrach and his nephew Cain, who both thought they were father and son, turned up at the funeral of Butch Dingle. Another cousin, Charity Dingle attended the funeral. Shadrach became drunk and fell asleep in church. In 2001, Shadrach learned the truth that Cain was his nephew, as Zak had an affair with Shadrach's wife Faith 9 months before Cain was born. When Zak was away in South Africa, Shadrach tried to seduce Lisa Dingle, his sister in law.
Memorable Info
Edit
Born: 22nd July 1948 (Originally 1945)
Died: 23rd July 2010 (Aged 62)
In May 2003, Shadrach said he was 58 years old so born inbetween May 1944 and May 1945 but he was said to have been 62 when he died in July 2010. If he was 58 in 2003 he'd be 65 in 2010.
Father Jedediah Dingle
Mother Peg Dingle
Siblings Albert Dingle, Zak Dingle, Caleb Dingle, Ezra Dingle, Zebediah Dingle
Grandfathers Jonah Dingle
Cousins Obadiah Dingle, Solomon Dingle, Elvis Dingle
Nephews Marlon Dingle, Eli Dingle, Cain Dingle, Nathan Dingle, Butch Dingle, Ben Dingle, Sam Dingle,
Nieces Tina Dingle, Belle Dingle, Lilith Dingle, Delilah Dingle
Spouses Faith Dingle (1974-2004)
Children Chas Dingle (1976), Gennie Walker (1987)
Grandchildren Aaron Livesy, Molly Sharma
Ad blocker interference detected!
Wikia is a free-to-use site that makes money from advertising. We have a modified experience for viewers using ad blockers

Wikia is not accessible if you've made further modifications. Remove the custom ad blocker rule(s) and the page will load as expected.