School House (Now St Mary's Church) Em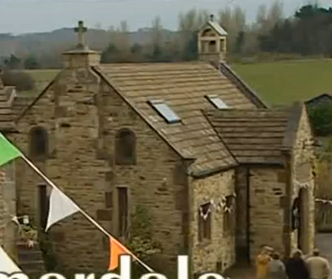 merdale, is the villages church. It is down
Church Lane, Emmerdale
, which is round the corner from
Main Street
. It was the village tea rooms from 1995 until 2002 and had been unused since 1979 before it was converted into a tea rooms by
Kathy Glover
. It was first seen in 1974 when new schoolteacher 
James Bonfils
stayed at Emmerdale Farm and when 
Seth Armstrong
was first seen in 1978 he had been a boiler man at the school for many years.
In 2002, after the Diner was shut down, School House became the new village church after Zoe Tate burned down the Original St Mary's Church when she was having a nervous breakdown. The land was consecrated when the school house was chosen. The current vicar is Harriet Finch.
Backstory
Edit
School House was built in 1826 by the Verney family. It was Beckindale's school for many years and Jacob Sugden, his father and grandfather, Jim Gimbel, the Dingle and Merrick families and the rest of the Sugdens would all have been educated here.
1974-1979
Edit
The school was mentioned in 1973 in an episode but the exterior was first seen in late 1974. 
James Bonfils
was a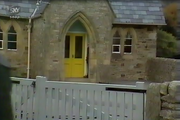 teacher there. He lodged at
Emmerdale Farm
. He left Beckindale in 1975 and the school was again seen in 1978 when 
Seth Armstrong
was a boiler man there.
Antony Moeketski
was a supply teacher in 1978. The school closed in 1979 due to lack of pupils who were transferred to Hotten Comprehensive. The building stood unused for the next 16 years.
1995-2002
Edit
Villager Kathy Glover bought the old school house and converted it into a tea rooms in 1995.
2002-present
Edit
Teachers when the building was a school
Edit
Vicars since usage of building as a church
Edit
Ad blocker interference detected!
Wikia is a free-to-use site that makes money from advertising. We have a modified experience for viewers using ad blockers

Wikia is not accessible if you've made further modifications. Remove the custom ad blocker rule(s) and the page will load as expected.