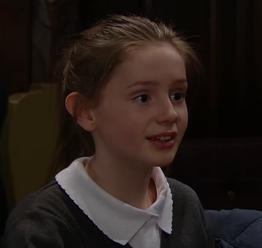 Sarah Sugden Jnr
is the daughter of Andy Sugden and Debbie Dingle. She was born in 2005.
Biography
Edit
Memorable Info
Edit
Birthday: 6th June 2005
Father Andy Sugden
Mother Debbie Dingle
Siblings Jack Sugden II
Grandfathers Cain Dingle, Billy Hopwood
Grandmothers Charity Dingle, Trish Hopwood
Adoptive Grandfather Jack Sugden
Adoptive Grandmother Sarah Sugden
Uncles Noah Dingle, Moses Dingle, Kyle Wyatt, Robert Sugden, Daz Eden
Aunts Victoria Barton
Stepfathers Pete Barton (2015-16
Stepmothers Katie Sugden (2005-07, 2014-15), Jo Sugden (2008-09
Godfathers Daz Eden
Godmothers Emily Kirk
Great Grandfathers Zak Dingle, Obadiah Dingle
Great Grandmothers Faith Dingle, Kathleen Dingle, Victoria Connolly
Great Uncles Nathan Dingle, Ben Dingle, Butch Dingle, Sam Dingle
Great Aunts Chas Dingle, Tina Dingle, Belle Dingle
Other Relatives Marlon Dingle, Eli Dingle, Gennie Walker, Shadrach Dingle, Billy Hopwood, Aaron Livesy, Mandy Dingle, April Windsor, Leo Goskirk
Ad blocker interference detected!
Wikia is a free-to-use site that makes money from advertising. We have a modified experience for viewers using ad blockers

Wikia is not accessible if you've made further modifications. Remove the custom ad blocker rule(s) and the page will load as expected.