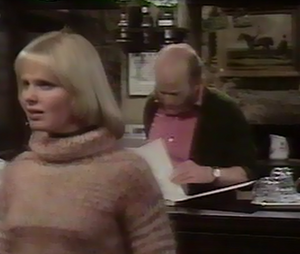 Sarah Foster was a minor character in Emmerdale Farm in December 1975. She met Matt Skilbeck on a country road one night when he was examining Jim Gimbel's stray sheep. Sarah and Matt developed a good friendship despite her being a married woman, or so she said. Sarah was played by Patricia Brake.
Backstory
Edit
1975-1976
Edit
Sarah Foster was firts seen driving down a country lane where she stopped to help Matt Skilbeck with a stray sheep that was injured. They went to the surgery and then Matt told Sarah about the Woolpack which was a hotel but was out of season. He said he could see if Amos and Henry would make an exception.
Appearances
Edit
1975
Ad blocker interference detected!
Wikia is a free-to-use site that makes money from advertising. We have a modified experience for viewers using ad blockers

Wikia is not accessible if you've made further modifications. Remove the custom ad blocker rule(s) and the page will load as expected.