Sandy Thomas is a character in Emmerdale. He first a
ppeared in 
Episode 4197 (6th November 2005)
and is the father of
Reverand Ashley Thomas
. Sandy has become one of the shows great elder characters and has never been short of witty lines and a bellowing sandpaper type voice. He is played by
Freddie Jones
.
Biography
Edit
Backstory
Edit
Sandy Thomas was born on the 22nd March 1933. His real first name may be Alexander. Sandy joined the Navy in about 1950 and came out in 1958. He then met and married and had 3 children, Ashley, Luke and Nikita. His wife Dorothy Thomas fell ill and was terminal. He helped her die and this lead to estrangement between Sandy and his son.
In 2005 San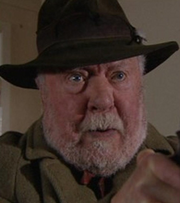 dy arrived in
Emmerdale Village
for Ashley's wedding to
Laurel Potts
. There was tension between Ashley and Sandy due to Sandy helping Ashley's mum Dorothy die from a terminal illness. Sandy's granddaughter
Jasmine Thomas
, Ashley's niece, wanted Sandy around. Sandy even was accused of kidnapping
Belle Dingle
at Christmas when she went missing.
Sandy moved in with Betty Eagleton at Keepers Cottage. He left Emmerdale in March 2008 but returned the following year.
Memorable info
Edit
Born: 25th March 1933
Full Name: Sandy (Alexander??) Thomas.
Sandy's real first name may be Alexander but this has never been confirmed.
Spouse Dorothy Thomas (??-??)
Children Ashley Thomas, Luke Thomas, Nikita Thomas
Grandchildren Jasmine Thomas, Arthur Thomas, Gabby Thomas
Sandy Thomas - list of appearances
Ad blocker interference detected!
Wikia is a free-to-use site that makes money from advertising. We have a modified experience for viewers using ad blockers

Wikia is not accessible if you've made further modifications. Remove the custom ad blocker rule(s) and the page will load as expected.