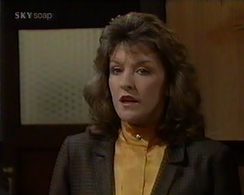 Sandra "Sandie" Merrick
was a character in
Emmerdale
. She appeared briefly in 1972 as a child then from 
Episode 599 (9th September 1980)
to
Episode 1350 (12th May 1989)
. She was the daughter of 
Tom Merrick
and Pat Merrick. Just before her half brother 
Jackie Merrick
's death in 1989 Sandie left Beckindale for Aberdeen. Sandie was played by actress
Jane Hutcheson-Lovett
, then Jane Hutcheson.
Biography
Edit
Backstory
Edit
Sandra Merrick was born in late 1965 in Beckindale to Tom and Pat Merrick. She was Pat's second child and Tom's first child although Tom thought Jackie Merrick, the eldest was his child at that time.
1972-1980
Edit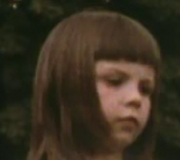 Sandie appeared briefly in November 1972 when Jack Sugden briefly courted his old childhood friend Pat Merrick. Jack had just returned to the village. The Merrick's soon left Beckindale for Leeds.
1980-1989
Edit
In September 1980, Sandie Merrick, by then 14 returned to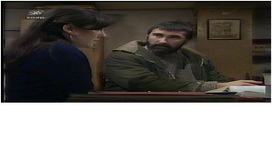 Beckindale with her mother Pat and brother Jackie, after Pat left violent husband Tom for good.
Sandie soon started hanging out in Hotten and took a shine to a DJ in 1982 who ran a shop in the town. In 1983, Sandie had a brief fling with Andy Longthorn. Andy was a friend of Jackie but when Jackie found out Andy was the father, he beat him up. Sandie joined her father in Aberdeen to give birth, he knew a good doctor, and she gave the baby up for adoption.
Sandie returned to Beckindale in early 1984.
1991 and later
Edit
Offscreen Sandie sold Mill Cottage to Frank Tate who bought it for his son Chris and new wife Kathy who was once married to Sandie's half brother Jackie.
In 2006 Jack Sugden mentioned her relationship with Terence Turner in 1985.
Father Tom Merrick
Mother Pat Sugden
Siblings Jackie Merrick (half, same mother), Robert Sugden (half same mother) Tommy Merrick.
Grandfathers Mr Merrick, David Harker
Grandmothers Mrs Merrick, Dolly Harker
Children Louise Merrick (1983)
Ad blocker interference detected!
Wikia is a free-to-use site that makes money from advertising. We have a modified experience for viewers using ad blockers

Wikia is not accessible if you've made further modifications. Remove the custom ad blocker rule(s) and the page will load as expected.