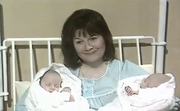 Samuel William and Sally Elizabeth Skilbeck were the twins of 
Matt
and 
Peggy Skilbeck
born 16th April 1973 at Hotten General Hospital. Sadly Peggy Skilbeck died in July 1973 aged 26 and left Matt bringing up two children. 
Annie Sugden
helped bring up the babies.
Sadly on the 13th January 1976 Sam and Sally were killed in a car acdcident alongside their aunty Beattie Dowton at a level crossing in Beckindale. They were buried with their mother in Beckindale churchyard.
Biography
Edit
1973-1976
Edit
Father Matt Skilbeck
Mother Peggy Skilbeck
Siblings Sam Skilbeck II (half, same father)
Grandfathers Oliver Skilbeck, Jacob Sugden
Grandmothers Elizabeth Skilbeck, Annie Sugden
Ad blocker interference detected!
Wikia is a free-to-use site that makes money from advertising. We have a modified experience for viewers using ad blockers

Wikia is not accessible if you've made further modifications. Remove the custom ad blocker rule(s) and the page will load as expected.