Ruby Haswell
was a character in Emmerda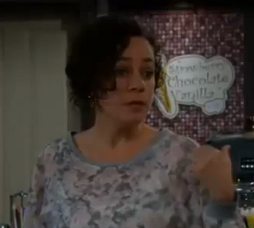 le. She first appeared in
Episode 6057 (20th October 2011)
and died in 
Episode 7254 (5th August 2015)
after the helicopter crashed into the
Village Institute
. She lived with her lesbian partner and wife
Ali Spencer
at
Brook Cottage
. She worked as a carer. Ruby was played by
Alicya Eyo
.
Biography
Edit
Backstory
Edit
Ruby Haswell was born on the 7th July 1978 to Lindy Haswell. Whether Lindy was married to Ruby's father at the time is unknown. Ruby became friends with Ali Spencer.
2011-2014
Edit
In October 2011, Ruby and Ali moved to Emmerdale and moved into Brook Cottage (Mill Brook Cottage). Ruby was a carer plus had a job at Cafe Main Street. In February 2014 she was subject to racial abuse from William Makepeace.
In August 2015, Ruby was killed when a helicopter crashed into the village hall. A bench was erected in the playground in her honour. Probably twinned with Arthur's Bench in EastEnders.
Memorable info
Edit
Born: 7th July 1978
Died: 5th August 2015 (Aged 37)
Full Name: Ruby Haswell
Mother Lindy Haswell