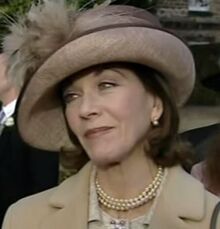 Rosemary King (Nee Oakwell, previously Sinclair)
was a character in Emmerdale who was first seen in
Episode 4317 (23rd March 2006)
and last seen in
Episode 4780 (13th September 2007)
. She was the second wife of
Tom King
and mother of
Grayson Sinclair
and his brother
Alasdair Sinclair
by her first husband
Raymond Sinclair
. She was played by
Linda Thorson
.
Biography
Edit
Backstory
Edit
2006-2007
Edit
Rosemary
On the 25th December 2007, Rosemary found that the police were looking for her. It was also the first anniversary of her husband Tom's death. She committed suicide by gunshot. On the 1st January 2008 Matthew left some flowers with a note with the word "Bitch" on them. She was buried that day but later that night Matthew dug up her coffin and put it in the back of a bin lorry, crushing the coffin.
Memorable info
Edit
Full name: Rosemary Venitia King (née Oakwell, previously Sinclair)
Spouse Raymond Sinclair (1968-??), Tom King (2006)
Children Grayson Sinclair (1970), Alasdair Sinclair (1970)
Grandchildren grandson (unnamed)
Nephew Lord Alex Oakwell
Ad blocker interference detected!
Wikia is a free-to-use site that makes money from advertising. We have a modified experience for viewers using ad blockers

Wikia is not accessible if you've made further modifications. Remove the custom ad blocker rule(s) and the page will load as expected.