Rosemary Kendall
was a ch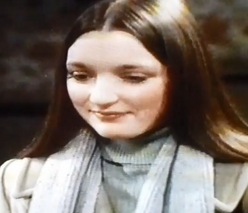 aracter in Emmerdale Farm from 
Episode 235 (17th February 1975)
to
Episode 314 (13th April 1976)
. She was a distant cousin of 
Annie Sugden
and worked as a farmhand at
Emmerdale Farm
. Rosemary was played by actress
Lesley Manville
.
Biography
Edit
Backstory
Edit
Rosemary Kendall was born in late February 1958 in Middlesborough, the daughter of Arthur Kendall and Jean Kendall. Arthur's mother was from Beckindale in Yorkshire and was the sister of Sam Pearson. Sam had a daughter Annie Sugden (Nee Pearson).
1975-1976
Edit
In March 1975 Rosemary came to sta
y at Emmerdale Farm after her mother Jean became depressed and was admitted to a mental home for a while. Joe Sugden called her Rosie of which she took offence at. She liked to be called Rosemary.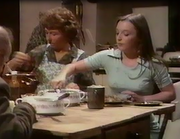 Rosemary became a farm hand but was sometimes treated a bit unfairly by Joe Sugden. Joe was always put straight by Annie. In October 1975, Jean Kendall came to stay at Emmerdale Farm for a short while. She was suffering from depression. Rosemary decided to stay at Emmerdale Farm.
Towards the end of 1975 Rosemary was getting friendly with Martin Gimbel, son of the tyrannical Jim Gimbel.
In April 1976 Rosemary left Emmerdale Farm to return to Middlesborough. She was never seen or heard from again.
First appearance Episode 235 (17th February 1975)
Last appearance Episode 314 (13th April 1976)
Memorable info
Edit
Born: February 1958
Full Name: Rosemary Kendall
Father Arthur Kendall Jnr
Mother Jean Kendall
Grandfathers Arthur Kendall
Grandmothers Rosemary Pearson
Great uncles Sam Pearson
First cousins once removed Annie Sugden
Second cousins Jack Sugden, Joe Sugden, Peggy Skilbeck
Second cousins once removed Jackie Merrick, Samuel and Sally Skilbeck, Robert Sugden, Victoria Sugden
Ad blocker interference detected!
Wikia is a free-to-use site that makes money from advertising. We have a modified experience for viewers using ad blockers

Wikia is not accessible if you've made further modifications. Remove the custom ad blocker rule(s) and the page will load as expected.