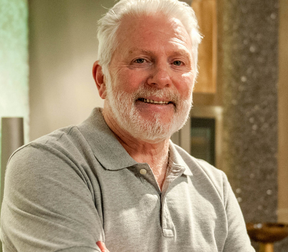 Ronnie Hale
was a character in Emmerdale who first appeared in
Episode 7476 (14th April 2016)
. He is an old friend and ex-lover of
Lawrence White
. Ronnie last appeared in
Episode 7895 (1st August 2017)
. Ronnie was played by former
Brookside
actor
John McArdle
.
Biography
Edit
Backstory
Edit
Ronald Hale was born in about 1950 in Liverpool. He had a brother Brian Hale. In the 1970s he was living in Yorkshire and met Lawrence White through work. In about 1976 Ronnie strated working for Lawrence at Lawrence White Farming Machinery and they developed a relationship. When Lawrence married a woman, Ronnie lost contact with him.
2016-2017
Edit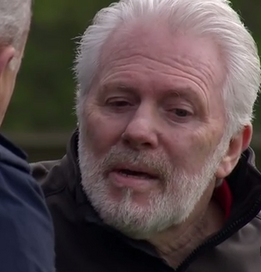 In April 2016,
Chrissie Sugden
was suspicious that Lawrence may not be her real father as he said he allowed his late wife 
Ellen White
to be intimate with other men when married to Lawrence, as he was not intimate with her. Chrissie looked through a family box of photos and saw a letter addressed to Ronnie Hale, from Ellen White, from 1980, the year Chrissie was born. She tracked down a Ronnie Hale living in
Hotten
. He did some plumbing at Home Farm in
Emmerdale Village
.
Ronnie later confronted Lawrence saying how they were in love. Ronnie started doing some building work for Rakesh Kotecha. Lawrence talked Sam Dingle into scaring Ronnie away with a gun. Sam told Ronnie that Lawrence had told him or he would not get his job back. Ronnie was angry at Lawrence for playing on Sam's gullibility.
Ronnie kept pestering Lawrence and in the end Lawrence frightened him off by shooting a bullet through a window and told Ronnie to leave. In the end Ronnie and Lawrence put aside their differences and shook hands, Ronnie announced that he was moving on but Chrissie offered him a job to build a new adventure playground. In December 2016, Lawrence allowed Ronnie to stay at Home Farm. Chrissie had a grudge against Ronnie and thought he was cheating on Lawrence with another man. Ronnie taught her a valuable lesson.
In August 2017 Ronnie was sick of Lawrence lying to him and keeping secrets when it was revealed that he drove Chrissie's real father John Richards to suicide after framing him for fraud. Ronnie decided he wanted to leave Lawrence. Lawrence tried to stop him but Ronnie told him to do the right thing for once and let him go. Ronnie got his good friend Lisa Dingle to take him to the train station in Connelton. Ronnie wanted a fresh start away from Emmerdale and away from Lawrence.
Memorable info
Edit
Birthday: About 1950
Full Name: Ronald Hale
Siblings Brian Hale
Ad blocker interference detected!
Wikia is a free-to-use site that makes money from advertising. We have a modified experience for viewers using ad blockers

Wikia is not accessible if you've made further modifications. Remove the custom ad blocker rule(s) and the page will load as expected.