Robblesfield is a village near Emmerdale on the opposite side of the village to Connelton. The village is mentioned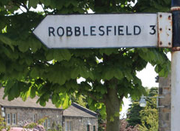 sometimes by Emmerdale residents. The village of Robblesfield is rarely seen in the show.
History and Facts
Edit
The Malt Shovel is on the Robblesfield Road.
It had a pub called King of Prussia. Carol Nelson worked there for six years before becoming a barmaid at the Woolpack in 1991.
Betty Eagleton mentioned that there is a mill shop there and, partly to wind up Viv Windsor, [compared to Emmerdale's village shop] it is good value. (Episode 5360, 30th July 2009).
In 2015, Rhona Goskirk mentions a Robblesfield Lane. N.B. Whether this is a different road to Robblesfield Road or just a casual turn of phrase by Rhona to mean the same route is currently unclear (episode 7240)
In 2015, on Robblesfield Lane, there is a garden centre (episode 7240).
in 2016, Aaron Livesy, Robert Sugden, and Liv Flaherty are looking for a flat. They find an interesting flat on the web, but Chas Dingle advices them not to take it because it's on the wrong side of Robblesfield.
Ad blocker interference detected!
Wikia is a free-to-use site that makes money from advertising. We have a modified experience for viewers using ad blockers

Wikia is not accessible if you've made further modifications. Remove the custom ad blocker rule(s) and the page will load as expected.