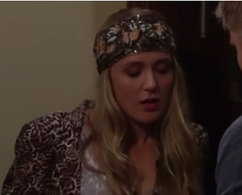 Rebecca White
is the daughter of
Lawrence White
and half sister of
Chrissie White
. She made her first appearance in
Episode 7638 (11th October 2016)
. Originally a bit of a schemer, she has since mellowed and is probably the only decent member of the White clan. Rebecca is played by
Emily Head
.
Biography
Backstory
Rebecca White was born on the 26th October 1986 to Lawrence White and Ellen White. She had an older half sister Chrissie White, who was the product of an extra marital relationship her mum had. In 2014, Rebecca had a fling with Chrissie's fiancee Robert Sugden, which resulted in her getting pregnant and Robert pressuring her to have an abortion. Soon after this, she went abroad to work.
2016-
In October 2016, Rebecca breezed into Emmerdale in a helicopter. She "slapped" Robert Sugden. It was revealed that they had had a fling when he was dating her sister Chrissie. Rebecca took a strand of Lawrence's hair from a comb and sent it off to the DNA lab and the results came back that she was indeed Lawrence's daughter. She jokingly said "Not completeley gay then"? Lawrence then made her equal partner in the family business with Chrissie. This displeased Chrissie.
In March 2017, she slept with Robert whilst his husband, Aaron, was in prison. This resulted in her getting pregant. She decided to keep the baby, displeasing both Robert and her father, Lawrence. At the end of May, she had a pregnancy scare and then decided to leave and there was nothing left for her. She returned on the 15th June 2017, after telling Vic she was moving to Melbourne. Victoria persuaded her to stay and they are currently living together. In July she found out she was having a boy.
Memorable info
Born: 25th October 1986
Full Name: Rebecca White
Family
Father Lawrence White
Mother Ellen White
Siblings Chrissie White
Nephews Lachlan White
Children Sebastian White (2017)
See also
Ad blocker interference detected!
Wikia is a free-to-use site that makes money from advertising. We have a modified experience for viewers using ad blockers

Wikia is not accessible if you've made further modifications. Remove the custom ad blocker rule(s) and the page will load as expected.