This is a page dedicated to both the plane crash and storm. Separate pages on the wiki are of both events but this is one for both events combined. The plane crash devastated the village of Beckindale on the dark night of
30th December 1993
. Fires, explosions and carnage ripped through the village, destroying buildings and claiming lives.
By a sheer coincidence, bang on 10 years later, on the dark night of the 31st December 2003 a storm ravaged through the village. The Woolpack was partially damaged by lightning, the bus stop destroyed, telegraph poles knocked down and roof slates fell off roofs and Ashley Thomas was injured and Tricia Dingle was killed by falling rubble from the pub when picking up paper which had blown out of her hand from the list husband Marlon had made out for her giving 101 reasons why he loved her.
Plane Crash Episodes
Edit
The Storm Episodes
Edit
The Plane Crash And Storm In Pictures
Edit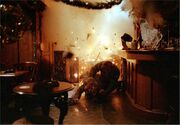 Ad blocker interference detected!
Wikia is a free-to-use site that makes money from advertising. We have a modified experience for viewers using ad blockers

Wikia is not accessible if you've made further modifications. Remove the custom ad blocker rule(s) and the page will load as expected.