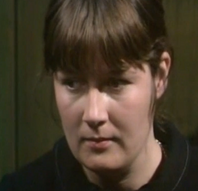 Peggy Skilbeck nee Sugden
was a character in Emmerdale Farm from 
16th October 1972
to
16th July 1973
. She was the daughter of 
Jacob Sugden
and 
Annie Sugden
and the wife of
Matt Skilbeck
. She was the sister of
Jack Sugden
and 
Joe Sugden
. She was played by actress
Jo Kendall
.
Biography
Backstory
Peggy Sugden was born on the 8th August 1946 at Emmerdale Farm. She was the eldest child and only daughter of farmer Jacob Sugden and his wife Annie. Peggy met and married farm labourer Matt Skilbeck in August 1965 when she was 19. In the autumn of 1972 she became pregnant and her father also died of pneumonia.
1972-1973
Peggy was the accountant at Emmerdale Farm and had shares in the farm. She found out she was pregnant and dreamed of swapping the quiet Beckindale village for suburbia. She persuaded Matt to take a job in Bradford. He was ashamed to be called an unskilled labourer so they remained in Beckindale. Matt and Peggy moved into Hawthorn Cottage shortly before the twins were born. Peggy gave birth to twins Sam and Sally Skilbeck on the 16th April 1973. In July that year she was complaining of headaches and went up to bed during a party at Hawthorn Cottage. She woke up and as she got up she collapsed and died at 11pm on the night of the 16th July 1973. She died of a brain haemmorhage. She was buried in Beckindale Churchyard next to her father Jacob.
First appearance Episode 1 (16th October 1972)
Last appearance Episode 77 (16th July 1973)
Memorable info
Birthday: 8th August 1946
Died: 16th July 1973 (Aged 26)
Full Name: Margaret Skilbeck (Nee Sugden)
Family
Father Jacob Sugden.
Mother Annie Sugden
Siblings Jack Sugden, Joe Sugden
Grandfathers Joseph Sugden, Sam Pearson.
Grandmothers Margaret Sugden, Grace Pearson
Spouse Matt Skilbeck (1965-1973)
Children Samuel and Sally Skilbeck (1973)
See also
Ad blocker interference detected!
Wikia is a free-to-use site that makes money from advertising. We have a modified experience for viewers using ad blockers

Wikia is not accessible if you've made further modifications. Remove the custom ad blocker rule(s) and the page will load as expected.