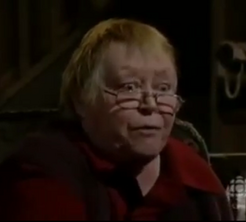 Mariead "Peg" Dingle
was a character in Emmerdale in 2002. She was the mother of 
Zak Dingle
and his 5 brothers. She was played by
Jeanne Hepple
.
Biography
Edit
Backstory
Edit
Memorable info
Edit
Birthday: Unknown, about 1930
Full Name: Mariead Dingle
According to Shadrach, his mother had a "lethal backhand" when she hit him (episode 3667).
Spouse Jedediah Dingle (1947-2002)
Children Albert Dingle (1946), Shadrach Dingle (1948), Zak Dingle (1952), Caleb Dingle (c1955), Ezra Dingle (c1957), Zebediah Dingle (c1959)
Appearances
Edit
2002
Ad blocker interference detected!
Wikia is a free-to-use site that makes money from advertising. We have a modified experience for viewers using ad blockers

Wikia is not accessible if you've made further modifications. Remove the custom ad blocker rule(s) and the page will load as expected.