Patrick Cedric "Paddy" Kirk
is a long running char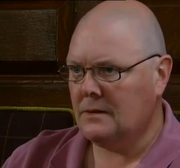 acter in Emmerdale, first appearing in
Episode 2169 (20th February 1997)
. He is the vet for the village and the entire area and has been involved a lot in
Aaron Livesy
's revelation that he is gay. Paddy lives at
Smithy Cottage
. He has formed a great double act with
Marlon Dingle
. Paddy is played by
Dominic Brunt
.
Biography
Backstory
Patrick Cedric Kirk was born on the 1st July 1969 to Mr Kirk and Barbara Kirk. He had a brother Colin Kirk. He became known by the pet name Paddy. Paddy was emotionally abused by his father as a child and one time, Paddy found him dead. Paddy trained as a vet at college and later become a locum vet.
1997-
On the 20th February 1997 Paddy was first seen as a locum vet for 
Zoe Tate
at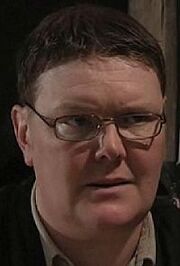 the 
vets
in
Emmerdale Village
.
Linda Fowler
and
Ned Glover
were the first 2 villagers Paddy met. He left in May 1997 as he expected his stay in the village to be temporary but returned full time in October 1997 and was involved in a dispute with local farmer
Jed Outhwaite
. Paddy started getting romantically involved with Mandy Dingle. Paddy's mother Barbara disapproved as well and in April 1998 turned up to inspect Mandy. She offered Mandy money to marry someone else so Mady wed Butch Dingle, her own cousin. Paddy felt lonely and depressed and he later proposed to Mandy in which she agreed. They married in November 1999 but were both arrested on their wedding night for both assaulting Eric Pollard.
In 2011 he begun dating vet Rhona Goskirk. Paddy took in Rhona and Marlon's son Leo Goskirk as his own. Paddy and Rhona later married but in 2015, Paddy started to date his adoptive sons care assistant Tess Harris.
Character creation and development
Memorable info
Birthday: 1st July 1969
Full Name: Patrick Kirk
Family
Father Mr Kirk
Mother Barbara Kirk
Siblings Colin Kirk
Spouse Mandy Dingle (1999-2001), Emily Dingle (2002-2006), Rhona Goskirk (2012-2016)
First cousins Jason Kirk, Ross Kirk
See also