PC Will Croft
was a minor character in Emmer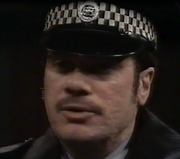 dale Farm in February and March 1976. He moved into the village police station in 
Main Street
and rubbed a few people up the wrong way with his attitude and unfairness. He was quite insulting as well. He accused old 
Fred Farrar
of poaching and Fred hid at
Emmerdale Farm
. It turned out the bird was dead and had dropped from a tree onto the road, which is common land, meaning it was anybodys to pick up afterwards. PC Croft was played by
William Simons
, who is an actor well known for playing policemen.
Biography
Edit
Backstory
Edit
PC Cro
ft moved into the village police station in February 1976. The police station was in 
Main Street
. PC Croft rubbed a few people up the wrong way with his attitude and unfairness. He was quite insulting as well. Croft had been admonished by police chiefs for being too slack at his former place of work in Leeds as a PC. PC Croft accused old 
Fred Farrar
of poaching and Fred hid at
Emmerdale Farm
. It turned out the bird was dead and had dropped from a tree onto the road, which is common land, meaning it was anybodys to pick up afterwards. Croft took no further action.
Croft moved away from Beckindale inbetween 1976 and 1980 when he was replaced by Sgt Ian MacArthur as the village bobby.
Memorable info
Edit
Spouse Julie Croft (??-1976-)
Appearances
Edit
1976