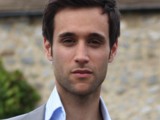 Nikhil Sharma was a character in Emmerdale, who first appeared in July 2009 to Episode 6636 (20th August 2013). He is the younger brother of Jai Sharma and son of Rishil and Georgia Sharma and brother of Priya Sharma. Nikhil was played by actor Rik Marakem. His character's exit storyline coincided with the death of his wife Gennie. Nikhil emigrated to Canada with baby Molly in August 2013 but returned in 2015. Nikhil was played by Rik Makarem.
Biography
Edit
Backstory
Edit
Nikhil Sharma was born in 1981 to Rishi Sharma and Georgia Sharma. He was the middle of 3 children. As a youngster Nikhil worked at his fathers sweet factory, later becoming a shareholder.
2009-2013, 2015-2016
Edit
Father Rishi Sharma
Mother Georgia Sharma
Siblings Jai Sharma, Priya Sharma
Spouse Gennie Walker (2012-2013)
Children Molly Sharma
Nieces/Nephews Mia Macey, Archie Breckle, Amba Metcalfe
First cousins Anisha Sharma
Ad blocker interference detected!
Wikia is a free-to-use site that makes money from advertising. We have a modified experience for viewers using ad blockers

Wikia is not accessible if you've made further modifications. Remove the custom ad blocker rule(s) and the page will load as expected.