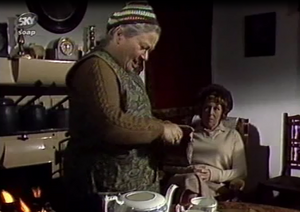 Nellie Ratcliffe (Nee Dowson) was a recurring character in Emmerdale Farm from 1978 to 1981. In 1978 Sam Pearson proposed to her but she refused, saying they were too old. She faced evicition from her cottage of 47 years the same year when NY Estates bought Home Farm. Nellie was later seen in 1981 at Sam's birthday. Amos Brearly mentioned her in April 1986.
She first appeared in Episode 426 (16th February 1978) and last appeared in Episode 690 (15th October 1981). Nellie was played by Gabrielle Blunt.
Biography
Edit
Nellie Ratcliffe

Born

Spouse

Tom Ratcliffe (??-1974)

Duration

First Appearance

Last Appearance

Played by
Backstory
Edit
Nellie Dowson was born in about 1905 in Beckindale. She was a childhood friend of Sam Pearson who was a few years older. Nellie Dowson later married Thomas Ratcliffe in about 1925 but they never had any children. In the early 1930s they moved into a cottage where Nellie would live for the next 50 years.
1978-1981
Edit
She was last mentioned in April 1986 when Amos said Nellie had witnessed the siege at the vicarage where Derek Warner held Rev Hinton hostage. That was mentioned in the Hotten Courier a few days after the event. Nellie was not mentioned again after this.
How long she lived after 1986 is not certain but as of 2018 she has very likely passed away.
In May 1974 Rev Ruskin announced that a Thomas Ratcliffe had died. In 1978 Nellie referred to her late husband as Tom. It is highly likely that Rev Ruskin was referring to Nellie's husband when he died in 1974.
Spouse Tom Ratcliffe (??-1974)
Appearances
Edit
1978
1979
1980
1981