Ad blocker interference detected!
Wikia is a free-to-use site that makes money from advertising. We have a modified experience for viewers using ad blockers

Wikia is not accessible if you've made further modifications. Remove the custom ad blocker rule(s) and the page will load as expected.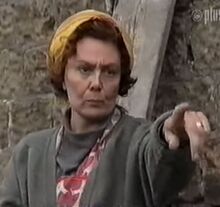 Nellie Dingle was a character in Emmerdale in 1995 and again in 2000. She was the first wife of
Zak Dingle
. Nellie was played by 
Sandra Gough
in 1995 and 
Maggie Tagney
in 2000.
Biography
Edit
Backstory
Edit
1995, 2000
Edit
Memorable info
Edit
It appeared that Nellie (and the Dingles in general) had a widespread infamous reputation due to the fact that a female store detective at Hotten department store let Mandy off for shoplifting once she knew Nellie was her aunt. She told her colleague that when they previously had "that Nellie Dingle in court, it turned into a riot. They converged from all over the country. Dingles. Evil hoardes of throwbacks reeking of pigs. Never again." (episode 2210, 27th May 1997)
Father Jimmy Lynch
Siblings Michael Lynch
Spouse Zak Dingle (1972-1997)
Children Nathan Dingle; Francis "Butch" Dingle (died 2000); Ben Dingle (died 1994); Sam Dingle; Tina Dingle.