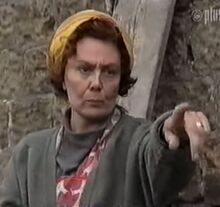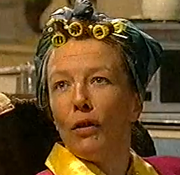 Nellie Dingle (Nee Lynch)
was a character in Emmerdale in 1995 and again in 2000. She was the first wife of
Zak Dingle
. She first appeared in
Episode 1941 (24th January 1995)
and last appeared in
Episode 2691 (11th May 2000)
. Nellie was played by 
Sandra Gough
in 1995 and 
Maggie Tagney
in 2000.
Biography
Edit
Backstory
Edit
Nellie Lynch was born in about 1950 to Jimmy Lynch and Mrs Lynch. Her family was Irish. She lived in Beckindale, Yorkshire and married Zak Dingle.
1995, 2000
Edit
Nellie was first seen in January 1995. She was the feisty matriarch of the Dingle clan. In October 1995 Frank Tate wanted to evict the Dingles. Nellie threw some slurry over him. Frank's son Chris Tate actually supported the Dingles. In December 1995, Nellie got a call to say that her sick father Jimmy had a stroke and was dying. She then left for Ireland to look after him.
Her father is assumed to have died in 1996 and she and Zak drifted apart and divorced. In 1998 Zak remarried.
In February 2000, Nellie returned to the village after 4 years away to try and win back Zak Dingle, now married to Lisa Dingle. In March 2000 Butch was seriously injured in the bush crash and later died in hospital. Nellie stayed for the funeral. In May 2000 she wanted Sam to return with her to Ireland but he decided to stay in Emmerdale. Nellie left for Ireland that day and has not returned to the village since.
Memorable info
Edit
It appeared that Nellie (and the Dingles in general) had a widespread infamous reputation due to the fact that a female store detective at Hotten department store let Mandy off for shoplifting once she knew Nellie was her aunt. She told her colleague that when they previously had "that Nellie Dingle in court, it turned into a riot. They converged from all over the country. Dingles. Evil hoardes of throwbacks reeking of pigs. Never again." (episode 2210, 27th May 1997)
Father Jimmy Lynch
Siblings Michael Lynch
Spouse Zak Dingle (1972-1997)
Children Ben Dingle, Butch Dingle, Nathan Dingle, Tina Dingle and Sam Dingle