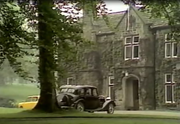 North Yorkshire "NY" Estates was a conglomerate who owned several acres of land across England. They originated in North Yorkshire but their headquarters was in Lincoln. They bought
Home Farm
, Beckindale in 1978 after the local squire 
George Verney
died and his nephew sold the estate. The head boss of NY Estates was
Christopher Meadows
. They owned Home Farm until January 1988 when they pulled out. The etsate has been privately owned and run since then.
Backstory
Edit
1978-1988
Edit
The conglomerate bought Miffield Hall in 1978 and renamed it Home Farm. The first manager of Home Farm was Trevor Thatcher.
Ad blocker interference detected!
Wikia is a free-to-use site that makes money from advertising. We have a modified experience for viewers using ad blockers

Wikia is not accessible if you've made further modifications. Remove the custom ad blocker rule(s) and the page will load as expected.