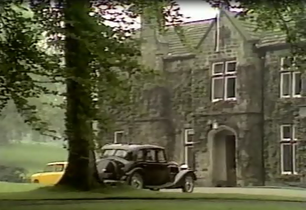 North Yorkshire "NY" Estates
was a conglomerate who owned several acres of land across England. They originated in North Yorkshire but their headquarters was in Lincoln. They bought
Home Farm
, Beckindale in 1978 after the local squire 
George Verney
died and his nephew sold the estate. The head boss of NY Estates was
Christopher Meadows
. They owned Home Farm until January 1988 when they pulled out, severing all ties in February 1988. The estate has been privately owned and run since then.
Backstory
Edit
NY Estates was a company than owned farms across the country, from Beckindale in Yorkshire to Fakenham in Norfolk, over 200 miles away. They had farms in France as well.
1978-1988
Edit
The conglomerate bought Miffield Hall in 1978 and renamed it Home Farm. The first manager of Home Farm was Trevor Thatcher. Due to making mistakes, Trevor was sacked soon afterwards after a fish farm crisis. Maurice Westrop took over but in 1980 he was posted to Wales. Richard Anstey took over. He was yet again another short term manager as he was sacked in 1981 for having an affair with his secretary. Joe Sugden, Richard's sidekick, was made temporary manager. In March 1982, Alan Turner took over as the new Home Farm manager. Originally he was quite humble but he then started showing his true colours when he made Joe a scapegoat for his mistakes. Turner used to try and make passes at any female secretaries as well as being grotty to the workers and even resorting to blackmail. In early 1984 he was given a stern warning by NY director Christopher Meadows. Turner was given a long term secretary, Caroline Bates, and she mellowed him a bit. Turner however did make a pass at Caroline in 1985.
In 1987, the NY bosses at Lincoln planned to expand but that also meant possibly pulling out of Home Farm. This lead to lots of tension and uncertainty at Home Farm. However Joe and Alan wanted to buy Home Farm once NY moved out. Christopher Meadows said that NY Estates is pulling out of Home Farm. In late January 1988, all the NY Estates belongings were collected from Home Farm. In February 1988 NY Estates finally severed all their connections to Home Farm and Joe and Turner bought the place. This however did not last as Denis Rigg bought the place by swindling Joe and Turner. When Denis died in an accident in 1989 the Tate family bought the place and remained for years.