Marga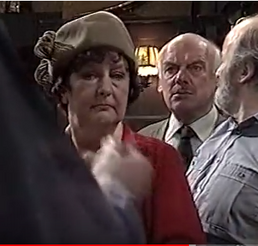 ret "Meg" Armstrong
was a recurring character in Emmerdale from 1978 or 1979 to 1993 and was the wife of
Seth Armstrong
.
Whilst many sources indicate that the character of Meg made her debut in 1978, the same year that Seth made his first appearance, the ITN Source site indicates 1979.
The character was rarely seen, and portrayed by two different actresses - Ursula Camm in 17 episodes 1979 to 1983, and Ruth Holden in 6 episodes in 1986. In 1986, the character of Meg was altered from the somewhat downtrodden wife of Seth into an outgoing, highly religious woman who, although having the best of intentions, was somewhat difficult to live with. The new Meg's nickname for Seth was "poppet". In 1986 she annoyed Mr Wilks by breaking his best pipe. She last appeared on the 10th July 1986 when she quit her job at the Woolpack.
Meg died in February 1993, aged 58 of a heart attack. She died offscreen.
Biography
Edit
Backstory
Edit
Meg Armstrong (Nee Unknown) was born on the 12th August 1934 in Beckindale. She married Seth Armstrong in 1952. In 1953 when she was heavily pregnant with Jimmy she fell over at a jitterbug contest. Jimmy was born in 1953 and they had another child Freddie several years later.
1979-1993
Edit
In 1979, Meg was 45 years old and had been married to Seth for over 25 years. She was quite downtrodden and serious minded. Seth and Meg's children Jimmy and Freddy left home in about 1982 and it was just Meg and Seth. Meg became increasingly annoyed that Seth was always down The Woolpack drinking and not getting home until late at night.
Memorable info
Edit
Birthday: 12th August 1934
Died: 12th February 1993 (Aged 58)
Full Name: Margaret Armstrong
Mother Mabel
Spouse Seth Armstrong (1952-1993)
Children Jimmy Armstrong (1953), Freddy Armstrong (1963)
Appearances
Edit
1979
1980
1983
1986
Ad blocker interference detected!
Wikia is a free-to-use site that makes money from advertising. We have a modified experience for viewers using ad blockers

Wikia is not accessible if you've made further modifications. Remove the custom ad blocker rule(s) and the page will load as expected.