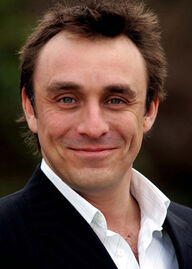 Matthew Thomas King was a character in Emmerdale from 
Episode 3678 (4th March 2004)
to
Episode 5169/5170 (16th December 2008)
. He was one of the shows most evil characters ever.

During his time on the show, Matthew had relationships with several women and was engaged to Anna De Souza when he died. Matthew's last appearance was on 16 December 2008 when his and Anna's wedding had a tragic conclusion. Matthew was played by Matt Healy.
Backstory
Edit
Matthew King was born on the 28 October 1970
2004-2008
Edit
Father Tom King
Mother Mary King (Nee McSween)
Siblings Jimmy King, Carl King, Max King, Scarlett Nicholls (half, same father)
Ad blocker interference detected!
Wikia is a free-to-use site that makes money from advertising. We have a modified experience for viewers using ad blockers

Wikia is not accessible if you've made further modifications. Remove the custom ad blocker rule(s) and the page will load as expected.