Mary Grace King (
Nee McSween
) was the wife of
Tom King
. She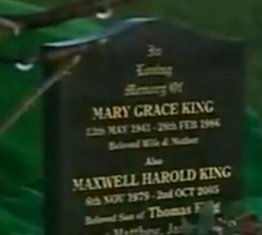 was born in 1941 and married Tom in about 1964 and they had 4 children, Jimmy, Max, Carl and Matthew King. Mary died in February 1986 in Beckindale and was buried in the churchyard.
Biography
Edit
1941-1986
Edit
Mary Grace McSween was born on the 13th May 1941, probably in Beckindale. She met and married
Tom King
in 1964
and they had 4 children,
Jimmy King
in 1965,
Matthew King
in 1968,
Carl King
in 1973 and
Max King
in 1979. Mary King fell ill in 1985 and died on the 28th February 1986 aged 44. One of her nurses was
Carrie Nicholls
. Tom King and his family then left the village.
Memorable info
Edit
Born: 13th May 1941
Died: 28th February 1986
Full Name: Mary Grace King (Nee McSween).
In 2013, Jimmy King mentioned that his mums maiden name was McSween.
Some sources say Mary was born in Scotland. This may have been mentioned in the show.
Spouse Tom King (1964-1986)
Children Jimmy King, Matthew King, Carl King, Max King
Grandchildren Angelica King, Thomas King, Anya King
Ad blocker interference detected!
Wikia is a free-to-use site that makes money from advertising. We have a modified experience for viewers using ad blockers

Wikia is not accessible if you've made further modifications. Remove the custom ad blocker rule(s) and the page will load as expected.