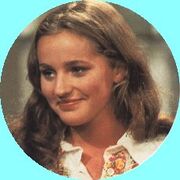 Marian L. Wilks, later Rosetti
, was a character in Emmerdale who first appeared in 
Episode 1 (16th October 1972)
. She was the only child and daughter of 
Henry Wilks
who moved to Beckindale together in 1972 from Bradford. She was one of the shows original characters and appeared sporadically in 67 episodes from 1972 to 1988. She appeared in 1972-1973, 1974-1975, 1978, 1987 and 1988. Until 1978 Marian was played by
Gail Harrison
, and in 1987 and 1988 was played by
Debbie Blythe
.
Biography
Edit
Backstory
Edit
Born in 1954 in Bradford, Marian was the only child of Bradford wool merchant Henry Wilks and his wife Margaret. In 1971 her mother died and Henry and Marian left Bradford to move to Beckindale when Henry retired at 50 from his wool making factory. They bought Inglebrook.
1972-1988
Edit
Peggy Skilbeck saw Marian riding a horse near Emmerdale Farm in October 1972 on the day of the funeral of Jacob Sugden. Marian later rode past Jack Sugden who had just returned to the farm after watching his dads funeral from the bridge near Beckindale Cemetery. They soon hit it off and developed a short romance. Marian's father Henry Wilks was disapproving of it. Marian soon left Beckindale in late 1972.
At Christmas 1974 she returned to the village from Rome. She then returned again in 1978 for a while. At that time Henry considered returning to Rome with her but in the end was talked out of it by Marian who later returned to Rome.
Marian met Italian Paolo Rosetti in about 1983 and married him. He had a daughter by his first marriage. After the birth of their son Nicolo Rosetti in June 1987 the family paid an extended visit to Beckindale. During so, Paolo met local corrupt businessman and when he said to Eric he was out of his depth after saying his "antiques" were nothing. Marian scolded Paolo after Eric left, saying Eric was trying to earn a living. Eric stole a spare key and tried to burgle the house, of which Paolo chased him. The gun went off and Paolo ended up in hospital. Marian had a fling with Jack.
First appearance Episode 1 (16th October 1972)
Last appearance Episode 1278 (1st September 1988)
Memorable info
Edit
According to Henry, Marian once went to a osteopath in Bradford after dislocating her shoulder and "put her right as rain in months" (episode 76).
Father Henry Wilks
Mother Maggie Wilks
Spouse Paolo Rosetti (??-1991)
Children Nicolo Rosetti (1987)
First cousins once removed Alice Wilks