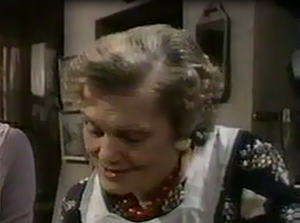 Madge Semple (Nee Plunkett) was a minor character in Emmerdale Farm in 1975. She was a former resident of Beckindale and have lived in London the past 30 years. She was a feisty lady, full of chatter but did not stay long back in the village and returned to London in December when she found the council had found her a new flat. She was played by Joyce Heron.
Biography
Edit
Backstory
Edit
Madge Plunkett was born in about 1915 in Beckindale. She lived above the village shop in the 1940s and married Frank Semple in 1943 but left him in 1945 for a younger man. They left to move 250 miles away in London. Madge remianed in London from then onwards. In late 1975 Madge returned to Beckindale, having been evicted from her flat in New Cross, London.
Madge Semple returned to Beckindale after 30 years in November 1975 after she heard her house was to be demolished with others for redevelopment. She stayed at the Woolpack Hotel and called in on Emmerdale Farm and started making herself at home and began annoying the residents with her constant chit chat. Madge planned to move back to the village but many people with long memories knew what she had done to her husband all those years ago. Hilda Semple, Madge's sister in law heard of her return and was not happy after what Madge had done to her brother.
After about a week back in Beckindale, in December 1975 Madge found she had been given a new flat back in London and told Annie Sugden that she would be returning to London tomorrow. She attended a Harvest Supper that night at the village hall, made peace with Hilda Semple, saying she was on her way tomorrow. Madge returned to London the folliwng morning and never came back to Beckindale again.
As of 2017 it is likely Madge has passed away.
Memorable info
Edit
Spouse Frank Semple (1943-??)
Appearances
Edit
1975
Ad blocker interference detected!
Wikia is a free-to-use site that makes money from advertising. We have a modified experience for viewers using ad blockers

Wikia is not accessible if you've made further modifications. Remove the custom ad blocker rule(s) and the page will load as expected.