Lisa Dingle is a long running character in Emmerdale, having first appeared in
Episode 2106 (13th August 1996)
. She wed 
Zak Dingle
in 1998 and they had a daughter that year. In 2011 Lisa was raped by 
Derek Benrose
who was then a good friend of Zak. Lisa has since got over her ordeal and is back to normal. Lisa is played by
Jane Cox
.
Biography
Edit
Backstory
Edit
Lisa Grecer was born in February 1956. She had a younger first cousin called Lizzie Lakeley. Lisa married Barry Clegg in 1978.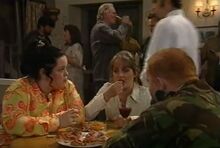 Memorable info
Edit
Born: 18th February 1956
Full Name: Lisa May Dingle (previously Clegg, nee Grecer)
Lisa is afraid of flying (episode 2279)
Spouse Barry Clegg (1978-??), Zak Dingle (1998-2015)
Children Belle Dingle (1998)
First cousins Lizzie Lakeley
Ad blocker interference detected!
Wikia is a free-to-use site that makes money from advertising. We have a modified experience for viewers using ad blockers

Wikia is not accessible if you've made further modifications. Remove the custom ad blocker rule(s) and the page will load as expected.