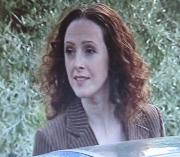 Lilith Dingle is the older sister of Delilah Dingle. She appeared in 2004, 2006 and 2007. She was played by Amanda Hennessy.
Biography
Edit
Backstory
Edit
Born in about 1975 to Zebediah Dingle and Colleen Dingle, Lilith grew up in Southampton. She never married but had a number of children out of wedlock, Luke Dingle in 1994, Matthew Dingle and twin brother Mark Dingle in 1996. She had a daughter Jon Dingle as well. All named after The Apostles.
2004, 2006, 2007
Edit
Lilith first visits Emmerdale in October 2004 for a Dingle family shindig. To pursue her singing career, she then leaves her four children - named after the Apostles - with her cousin Marlon Dingle for a month before collecting them on 21 November. Lilith returns on 7 November 2006 when she leaves her four children with Marlon and his wife Donna while she goes away to work. Days later Lilith is arrested for armed robbery and is remanded in police custody. After months on remand, Lilith stands trial on 12 July 2007, and is freed when the case collapses after a prosecution witness collapses after being intimidated by Eli Dingle. The following day she take her four children to Ireland with her, much to Donna and Marlon's distress.
Memorable info
Edit
The Dingles lived in the village long before they first appeared in October 1994 so I question the statement about the 10th anniversary celebration of arriving in the village, could be 10th anniversary of their introduction in the PROGRAMME. In 1995 it was clearly stated the Dingles had lived at Wishing Well Cottage for 3 generations. And there has been many other indications that the Dingles lived in Beckindale/Emmerdale for decades and Zak was born in the village.
Father Zebediah Dingle
Mother Colleen Dingle
Siblings Delilah Dingle
Spouse None
Children Luke Dingle (1994), Mark Dingle (1996), Matthew Dingle (1996), Jon Dingle (unknown birth year)