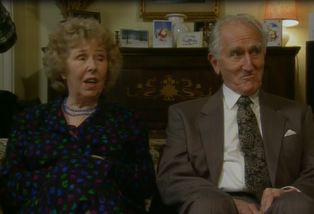 Leonard Kempinski was a character in Emmerdale from Episode 1721 (15th December 1992) to Episode 1831 (5th January 1994) even though he last appeared alive in Episode 1829 (30th December 1993). He was introduced as a new friend of Amos Brearly who had emigrated to Spain in 1991. Leonard later married Annie Sugden and died in the plane crash that destroyed the village that year. Leonard was played by actor Bernard Archard.
Biography
Edit
Backstory
Edit
Leonard Kempinski was born in Poland in about 1915. He served in WW2 and settled in Britain. He later moved to Spain. He made money by being a tax exile. While in Spain he met and then became friends with Amos Brearly, who had retired to Spain in 1991.
1992-1994
Edit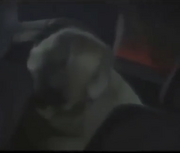 Leonard Kempinksi came to
Beckindale
in December 1992 with his friend Amos. Leonard was introduced to Annie Sugden. Leonard was treated with disdain by Annie's sons
Jack Sugden
and
Joe Sugden
as they thought he was after her money. It transpired Leonard was wealthy himself, a tax exile.
In October 1993, Leonard married Annie. Annie had never thought that at 73 years old she would be remarried. In December 1993, Annie and Leonard planned a trip to Spain. As Joe was driving them out of the village towards the airport, a burning piece of wreckage from a pasenger jet hit the Land Rover. Leonard told Joe to look out and Joe swerved but crashed into a ditch at the side of the road. Leonard smashed his head on the back of Joe's seat and died instantly. Joe and Annie survived.
In mid January 1994, Leonard was buried with the other plane crash victims in Beckindale Village Cemetery.
In February 2009, 15 years after his death, Leonard was mentioned by Annie to her granddaughter Victoria Sugden.
Memorable info
Edit
Born: About 1915
Died: 30th December 1993 (Aged about 78)
Full Name: Leonard Kempinski
Spouse Annie Sugden (1993)