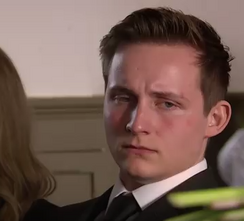 Lachlan White
is a character in Emmerdale who was first seen in October 2014. He is the son of
Chrissie White
. Lachlan has developed a crush on
Belle Dingle
. Lachlan will depart the show later in 2017. Lachlan is played by
Thomas Atkinson
.
Biography
Edit
Backstory
Edit
Lachlan White was born on the 26th July 2000 to Chrissie White and Donny Cairn. The family lived in Robblesfield.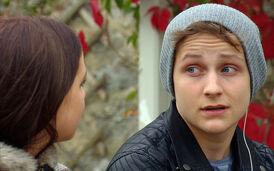 Lachlan White arrived in the village when his mother Chrissie grandfather
Lawrence White
bought
Home Farm
. He lived in Home Farm with Chrissie, Lawrence and
Robert Sugden
. Lachlan developed a crush on
Belle Dingle
. He started taking candid shots of her from afar. Lachlan developed a crush on
Alicia Metcalfe
and attacked her in February 2015, he then tried to get David arrested for drugs he placed in his shop.
In October 2016, Lachlan gets kidnapped by Robert's boyfriend Aaron Dingle after threatens to lie that Robert sexually abuse him. Lachlan escape and runs to the quarry where Aaron and Robert catch him. Lachlan make his own escape after Aaron crashes his car into the lake. The next day, Lachlan lie to his family where he was after Chrissie question him why he skipped school. Chrissie gets suspicious on Lachlan after notice his clothes is washed but Lachlan quickly lie that he spills on his clothes.
The day after, Lachlan exposes Rebecca's affair with Robert in the Woolpack on Rebecca's birthday that resulting Chrissie and Rebecca slaps each other and conforms each other with home truth.
Memorable info
Edit
Birthday: 26 July 2000
Full Name: Lachlan White
Mother Chrissie Sugden
Father Donny Cairn
Stepfather Robert Sugden
Grandfathers John Richards
Grandmothers Ellen White
Adoptive Grandfathers Lawrence White
Aunts Rebecca White
Great Uncles Tim Richards