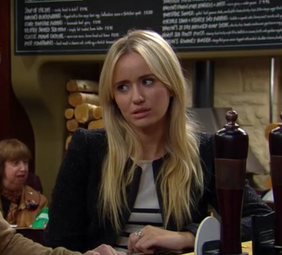 Katie Sugden (previously Macey and, first time around, Sudgen; nee Addyman)
was a character in Emmerdale from 2001 to 2015. She first appeared in
Episode 2962 (18th July 2001)
. She was one of the longest serving characters to have first appeared in the 2000s and was married to
Andy Sugden
and then
Declan Macey
during her time. Katie died in February 2015 when she was accidentally killed by her brother in law
Robert Sugden
. Katie last appeared in
Episode 7101 (9th February 2015)
. Katie was played by
Sammy Winward
.
Biography
Edit
Backstory
Edit
Katie Addyman was born on the 1st September 1986 to Brian Addyman and Caroline Addyman. She had a sister Jodie Addyman and a brother Sam Addyman.
2001-2015
Edit
In July 2001, Katie Addyman was in detention with Andy Sugden. They began dating. This made Andy's adoptive brother Robert Sugden jealous. Katie was a lover of horses. In September 2001, Katie was involved in a car accident which killed headmistress Barbara Strickland. Terrified of the consequences, the group leave the body and burn the car but feeling guilty, they eventually confess. Marc is jailed and Katie and the others receive community service.
Katie became pregnant as a teenager by Andy but later suffered a miscarriage. He later proposed to her and he gained the tenancy of Butler's Farm. Katie moved in with him but felt neglected by Andy so turned to Robert Sugden for excitement. Katie developed feelings for Robert and an affair began behind Andy's back. Daz saw Robert and Katie together in the garage and told Andy. Desperate to keep the affair secret, Katie persuaded Andy to put Daz back into care. Katie ended the affair after this. In February 2004, Andy and Katie married. Katie fought her feelings for Robert and tried to make her marriage work but was jealous when Robert dated Donna, her friend, in order to expose her true feelings. The affair started up again but the couple were discovered in bed by Robert's younger sister and Andy's adoptive sister, Victoria Sugden.
In 2012, Katie married Declan Macey, the owner of Home Farm and she later fell down a mineshaft. Katie had an ovary removed due to a quad bike accident and this caused friction between her and Declan. They later separated and divorced. Katie rekindled her relationship with Andy Sugden. Although in October 2014, Robert Sugden returned to the village.
Memorable info
Edit
Birthday: 1st September 1986
Died: 5th February 2015 (Aged 28)
Full Name: Katherine Addyman
Father Brian Addyman (deceased)
Mother Caroline Addyman
Siblings Jodie Addyman, Sam Addyman
Spouse Andy Sugden (2004-2007; 2014-2015, her death), Declan Macey (2012-2013)