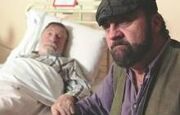 Jedediah Dingle
was the father of
Zak
, Shadrach, Albert and Caleb Dingle. He left in 1960 and his wife said he had died but it turned out he was alive and well in 2002. Jedediah was played by
Richard Mayes
.
Biography
Edit
Backstory
Edit
Jedediah Dingle was born in Beckindale in 1921 the son of Jonah Dingle and Mrs Dingle (whose first name has never been revealed). A younger brother Bert Dingle was born in about 1928. Jed wed Peg when she was young in 1945 and they had their first son Albert in 1946 then Shadrach in 1948 followed by Zak in 1952, Caleb, Ezra and Zebediah Dingle.
In 1960, Jed and Peg had a huge row. Zak was in bed upstairs and he heard shouting and screaming then a sudden silence. Zak saw dried blood on the floor the following morning and no sign of his father. Zak assumed Jed had died but Jed had simply left the family and the blood was Peg's after he hit her during the fight. Peg told her children that Jed had died. Yet Jed had simply left the family, leaving Peg to bring up the children alone. The truth was not known to Zak for the next 40 years.
In March 2002, Peg finally came clean and said that Jed had not died, he had simply left the family after a huge row in 1960 when Zak was 8. In December 2002, Zak visited his dying father Jed. Jed said there was a family fortune in Chile in South America. Jed then died aged 81. Zak went to South America in search of the fortune but was unsuccessful.
Father Jonah Dingle
Mother Mrs Dingle (Unknown first name)
Siblings Bert Dingle
Spouses Peg Dingle (1947-2002)
Grandfathers Isaac Dingle I
Children Albert Dingle (1946), Shadrach Dingle (1948), Zak Dingle (1952), Caleb Dingle (c1955), Ezra Dingle (c1957), Zebediah Dingle (c1959)
Grandchildren Butch Dingle, Ben Dingle, Cain Dingle, Tina Dingle, Sam Dingle, Chas Dingle, Marlon Dingle, Eli Dingle
Great grandchildren
Great, great grandchildren
Appearances
Edit
2002