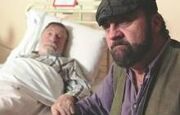 Jedediah Dingle
was the father of
Zak
, Shadrach, Albert and Caleb Dingle. He left in 1960 and his wife said he had died in a house fire but it turned out he was alive and well in 2002. Jedediah was played by
Richard Mayes
.
Biography
Edit
Backstory
Edit
Jed Dingle was born in Beckindale in 1921 the son of Jonah Dingle and his wife (whose name has never been revealed). A younger brother Bert Dingle was born in about 1928. Jed wed Peg when she was young in 1945 and they had their first son Albert in 1946 then Shadrach in 1948 followed by Zak in 1952, Caleb, Ezra and Zebediah Dingle.
In 1960 when Zak was 8 years old, Jed and Peg had a massive row and Jed left, leaving Peg to bring up the children alone.
Father Jonah Dingle
Mother Mrs Dingle (Unknown first name)
Siblings Bert Dingle
Spouses Peg Dingle (1947-2002)
Children Albert Dingle (1946), Shadrach Dingle (1948), Zak Dingle (1952), Caleb Dingle (c1955), Ezra Dingle (c1957), Zebediah Dingle (c1959)
Grandchildren Butch Dingle, Ben Dingle, Cain Dingle, Tina Dingle, Sam Dingle, Chas Dingle, Marlon Dingle, Eli Dingle
Great grandchildren
Great, great grandchildren
Appearances
Edit
2002
Ad blocker interference detected!
Wikia is a free-to-use site that makes money from advertising. We have a modified experience for viewers using ad blockers

Wikia is not accessible if you've made further modifications. Remove the custom ad blocker rule(s) and the page will load as expected.