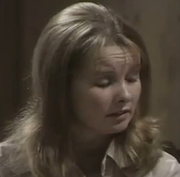 Janie Blakey (nee Harker)
was a character in Emmerdale from 1972 to 1974 and a short spell in 1986, last appearing in
Episode 1082 (9th September 1986)
. She dated and wed local blacksmith 
Frank Blakey
in 1973 and left Beckindale in January 1974 when Frank became a schoolteacher 200 miles away in Essex. Janie came back to the village briefly in 1986, by which time her marriage to Frank was over. As she was heading back to Essex she heard news of her sister
Pat Sugden
's death and returned. From 1972 to 1974 Janie was played by
Diane Grayson
and in 1986 was played by
Lesley Duff
.
Biography
Edit
Backstory
Edit
Janie Harker was born in Beckindale in 1951 to Robert and Dolly Harker. She was the younger sister of Pat Harker. The Harkers lived next door to the Merrick family. Janie went to school with Sharon Crossthwaite.
1972-1986
Edit
In 1972 Janie Harker was dating Frank Blakey, who ran the forge in Beckindale. They married in March 1973 and in January 1974 Frank was offered a teaching job in Essex. Janie and Frank left the village. Janie did not return to Beckindale for 12 years until the summer of 1986 when she had divorced Frank and had reverted back to her maiden name. Amos Brearly took a bit of a shine to her as he remembered her from before. In August 1986, now aged 35 and single again, Janie returned to Beckindale for a visit. Her sister Pat Sugden was killed when driving home from dropping Janie off at the station in late August. Janie returned for Pat's funeral. She last appeared in September 1986 when Tom Merrick gave her a lift to the train station a week after her sister Pat's funeral. She has not been seen or heard from since.
Father David Harker
Mother Dolly Harker
Siblings Pat Sugden
Spouse Frank Blakey (1973-??)
Aunts/Uncles Tom Harker, Elsie Harker
Nephews/Nieces Jackie Merrick, Robert Sugden
Ad blocker interference detected!
Wikia is a free-to-use site that makes money from advertising. We have a modified experience for viewers using ad blockers

Wikia is not accessible if you've made further modifications. Remove the custom ad blocker rule(s) and the page will load as expected.