1982 was a year of change for the pace of Emmerdale Farm. A bit less emphasis on Emmerdale Farm itself and more on Home Farm and the younger characters including Jackie and Sandie Merrick, Andy Longthorn and Teddy Hooson. The show became a bit more urbane and in some scenes chart music was being played in the background such as Madness, the great 1980s pop group.
In October 1982, Teddy had swapped chemicals with weedkiller at Home Farm and Jackie found out the truth. Teddy had been a previous resident of Beckindale. One afternoon Jackie and Teddy were walking on a quiet country lane and started arguring about the potato plantation chemical swap fiasco when Teddy then insulted Jackie's just remarried mother Pat Sugden. Jackie took umbrage and this lead to a massive fight. Here is a step by step guide of that fight scene:-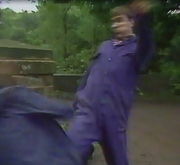 Ad blocker interference detected!
Wikia is a free-to-use site that makes money from advertising. We have a modified experience for viewers using ad blockers

Wikia is not accessible if you've made further modifications. Remove the custom ad blocker rule(s) and the page will load as expected.