Hunter Bell was a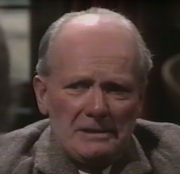 Hunter Bell

Born

Occupation

Duration

First Appearance

Last Appearances

Played By
minor character in Emmerdale Farm in 3 episodes in December 1974 and again in 2 episodes in August 1987. In 1974 was unsure of his true age and thought he was 70 but it turned out he was 67 and too young to join the Over 70s Club. In 1987 he was one of the protesters against the nuclear dump on
Pencross Fell
. He was played by
Frederick Bennett
.
Biography
Edit
Backstory
Edit
Hunter Bell was born in 1907 on the Beckindale parish boundary. He was illegitimate. As he got older he lost track of his actual age but by 1974 he thought he was 70 years old and old enough to join The Beckstone Thrash.
1974, 1987
Edit
Sam Pearson met Hunter in The Woolpack and told him that Rev Edward Ruskin cannot find a record of his birth in the church records. Hunter is adamant that he was born in Beckindale. He asks Sam to see if Charlie Nelson would join the Over 70s. Hunter wanted to join the Over 70s and had to try and prove his age. He found that he was only 67 and had 3 years to go to join the club. Sam said Hunter looks 70 so he thought he might get away with it. Hunter then attended the Seedcut that night.
13 years later, in August 1987 now aged about 80, an elderly Hunter Bell attended the villagers protest against the proposed nuclear waste dump. He attened the party at 
Emmerdale Farm
later on after the protest victory.
Hunter Bell died after 1987.
Memorable info
Edit
Born: 1907
Died: After August 1987
Full Name: Hunter Bell
Parents: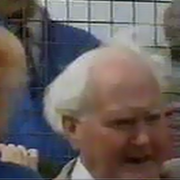 In
Episode 1178 (25th August 1987)
an old man was seen who looked just like Hunter Bell.  Very likely the same actor and most likely even the same character. He was uncredited.
Appearances
Edit
1974
1987
Ad blocker interference detected!
Wikia is a free-to-use site that makes money from advertising. We have a modified experience for viewers using ad blockers

Wikia is not accessible if you've made further modifications. Remove the custom ad blocker rule(s) and the page will load as expected.