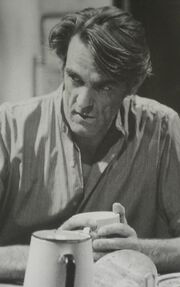 Holly Farm (Gimbels Farm) was the home of the Gimbel family which consisted of tough farmer Jim Gimbel, his wife Freda and their 3 children Kathy, Martin and Davey Gimbel. It was mentioned a few times before appearing onscreen at times from 1974 to 1975. Jim Gimbel shot himself in 1977 and the farm's new owners, brother and sister Ian and Ruth Hepton, moved in, in 1978.
According to a 1976 map the Gimbels farm was near the top end of Main Street on the Robblesfield Road.
As of 2014 it is unknown who lives at Holly Farm.
Holly Farm was built in about 1800. In the 1950s, tyrannical farmer Jim Gimbel bought the farm. He had a wife Freda Gimbel and 3 children born inbetween 1952 and 1960.
1973-1976
Edit
In 1973, the Gimbel family lived at Holl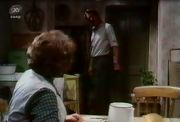 y Farm. Jim Gimbel, the tyrannical farmer in his late 40s to 50, his wife Freda Gimbel, aged about 50. They had 3 children, the eldest Kathy, had left home and got married. However she moved back home in 1974 when her marriage dissolved. Jim and Freda's other 2 children were Martin and Davey Gimbel who were 19 and 13 in 1974. In 1975 Jim threw Martin out over a row about far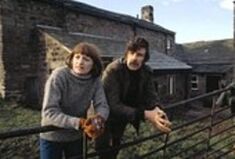 ming.
Residents over the years
Edit
Ad blocker interference detected!
Wikia is a free-to-use site that makes money from advertising. We have a modified experience for viewers using ad blockers

Wikia is not accessible if you've made further modifications. Remove the custom ad blocker rule(s) and the page will load as expected.