Holly Barton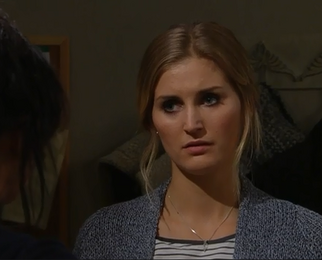 was the eldest daughter of John and Moira Barton. She has appeared in July 2009 until an initial departure in June 2012 when she had her sister
Hannah Barton
went to live in
London
. She returned in March 2016, and was using again, she seemed to be clean again but died of a drug overdose in September 2016. Holly was played by
Sophie Powles
.
Holly had a controversial drugs storyline in 2010 and due to her fathers death in 2012 took drugs again.
Biography
Edit
Backstory
Edit
2009 to 2012
Edit
In 2009
24th March, Cain's BMW was stolen. Moria and Cain gave chase and eventually Moira drove the car off the road into a field. The pair confronted the masked driver who revealed herself to be, a now blonde, Holly. Holly was back into drugs again and stole to feed her habit. Holly became friends with Jai Sharma.
Holly died of a drugs overdose in October 2016 aged just 25. At a meeting for drug addicts Jai met a lookalike of Holly, Nell Fairfax.
Memorable info
Edit
Born 25th May 1991
Died 29th September 2016 (aged 25) (Died of a drug overdose)
Father John Barton
Mother Moira Barton
Uncle James Barton
Siblings Hannah Barton, Adam Barton (half, same mother), 
Cousins Pete Barton, Ross Barton, Finn Barton
Ad blocker interference detected!
Wikia is a free-to-use site that makes money from advertising. We have a modified experience for viewers using ad blockers

Wikia is not accessible if you've made further modifications. Remove the custom ad blocker rule(s) and the page will load as expected.